Rob Schofield at NC Policy Watch seems to have taken over as watchdog in combating Art Pope's influence, and thank goodness for that. Someone with a stronger stomach than I needs to be on the job, and it's a big job indeed.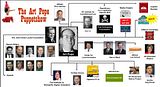 Those unfamiliar with the breadth of Mr. Pope's empire are often astounded by the reach of its power. From the Wake County school board and the floor of the NC House to every news editor's desk, Pope money pervades public policy in North Carolina. Some of his influence is subtle, for example, the long hard work of shaping the economics department at NC State. He knows that reporters turn to professors there for commentary on economic issues. Could there be a better way to manipulate the masses? Cultivate experts that feed a resource-poor fourth estate. They call it subsidized news.
From all I can see, Mr. Pope's ideological purity is authentic, his having been born to the manor. Sitting atop the Pope Family Foundation's millions, he sees more clearly what is wrong with the world and what to do about it. Cut taxes, starve government, shred the public workforce, watch agencies underperform, say "I told you so," and start all over again.
It's fascinating that a person born so lucky would work so hard to undermine public services, public planning, and progressive ideals. And to make matters worse, he's good at it! The guy seems to work like a machine and is smart as a fox. I almost wish he were a screw-up like his friend in Texas, but that would probably be even more dangerous.
On the other hand, ten million dollars a year is a small price to pay for an army of dedicated messengers to manipulate the news. Media mercenaries through and through. In the marketplace of ideas, Mr. Pope is more than getting his money's worth.
Go read Rob's latest column, which touches on Pope's influence in Wake County. It also explores the battle that's been joined between left and right in politics. Would love to hear your thoughts.
_________________________________
The tip of the empire

Higher ed http://www.popecenter.org/
Think tank http://www.johnlocke.org/
Journal http://www.carolinajournal.com/
Revisionist history http://www.northcarolinahistory.org/
Grassroots infiltration http://www.nceducationalliance.org/
Faculty affiliate http://www.lockefan.org/
Green astroturf http://www.environmentnc.com/
Boys club http://www.johnlocke.org/lockerroom/
Pope family treasure box http://www.capitol-monitor.org/non-profit-profiles/john-william-pope-foundation-o.php
Bus tour http://www.americansforprosperity.org/national-site
Vigilantes http://www.reportpubliccorruption.org/