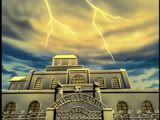 There's a new Puppet lurking in the halls of the Art Pope Puppetshow. Her name is Jane Shaw, and her credentials place her among the upper crust of free-market fundamentalists. With a career spent extolling the virtues of private enterprise (though never actually running a business), it's surprising that she landed in the Pope Center for Higher Education instead of the John Locke Foundation itself. She's infinitely more suited than Stagemanager Hood to be running the whole shooting match for the Puppetmaster. But that's another story.
This week Ms. Shaw slips into her whiniest self over the latest dust-up between the mean old faculty at NC State and Art Pope. As you may recall, a number of NC State professors recently complained about a planned deal between the Puppetmaster and the school. Mr. Pope wanted to buy himself his own private curriculum and the faculty, understandably, has said "no thanks." Now Jane Shaw is accusing the faculty of having a political agenda! Talk about the pot calling the kettle black!
Outspoken faculty members with a strong political agenda have once again interfered in discussions about a potential donation to a North Carolina university. Toby Parcel, dean of the College of Humanities and Social Sciences at North Carolina State University, had quietly approached the Pope Foundation to explore funding for academic programs. But in a stormy public meeting in early December, some faculty members loudly and rudely made it clear that they don't want their college to get any money from Pope.

Apparently opposing the Pope Foundation for its conservative political philosophy, several faculty members used over-the-top language, calling the money "dirty money" and saying that to accept funds would be "a very dangerous step." (The discussions had involved support of a study abroad program and French and German language programs.)

J. Arthur "Art" Pope responded with a column in the Raleigh News & Observer on December 13. He said that, contrary to the implication of "dirty money," the foundation's funds had come from "decades of general merchandise retailing in North Carolina and beyond that have provided thousands of jobs and served millions of satisfied customers."
But as George Pence has so beautifully observed, there are two sides to that story:
So at the end of my small effort to learn more about Art Pope I'm left to speculate about a man who takes his fortune from those at the very bottom of the financial ladder, and then who gives so ferociously to reduce his taxes and fight against initiatives like North Carolina's increase of the minimum wage. Perhaps the invidious comparison of Art Pope with Darth Vader isn't all that far off the mark.
Ms. Shaw appears truly confused as to why professors would dare to question the motives and challenge the integrity of the organization she recently joined. In the face of such confusion, I daresay the new Puppet didn't complete the level of due diligence she should have.