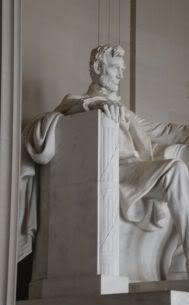 In the middle of a multitude of activities, The Southern Dem found time to research and write an excellent series of articles about a usurper of democracy, one Theodore Lane Sampley of Kinston. Sampley, a political provocatuer, is the originator and maintainer of an eyesore in the nation's capital, an unkempt shack which sits in plain view of the Lincoln Memorial, mocking Lincoln and the nation's political heritage. The culmination of this writing was a three part article, links to which I have re-posted to recognize the excellent research and narrative which may have been missed by some readers the first time around in the whirlwind of daily posts.
PART 1 : Who is Ted Sampley and Why do I Care?
PART 2 : A Darker Shade of Ted
PART 3 : Disreputable, Despicable, Dishonorable
Disclaimer - To my knowledge, no person mentioned in this article or the three referenced articles, has committed a crime, pleaded guilty to or been convicted of any crime associated with events listed here.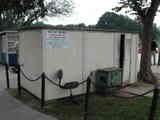 The Southern Dem exercised a great deal of discretion in writing these articles. One picture not originally shown was this view of the Last Firebase which is the side that faces the Lincoln Memorial and is the view seen walking from the steps of the Lincoln Memorial towards the Vietnam Veterans Memorial. Click on the thumnail for a larger image of this "tribute" to our fallen heroes.