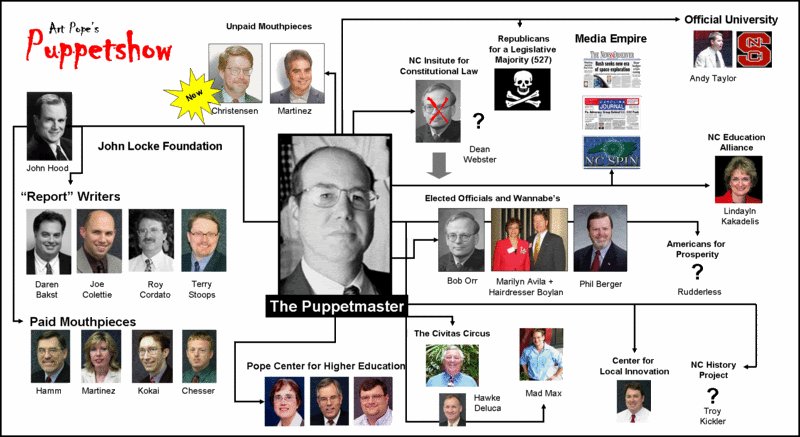 Rob Christensen's December 2 column has an analysis of what he considers the state of civics education in the United States, based on a test created by the Intercollegiate Studies Institute. Christensen's column wraps with a link to this test, which I found hard, somewhat bizarre, and dramatically tilted in favor of knowing all about the kind of dead white men these people adore.
And what does Christensen have to say in the interest of full disclosure?
ISI is a conservative-leaning organization founded in 1953.
If you follow my link to the ISI website, you will discover that "conservative leaning" describes ISI about as well as "objective reporter" describes Christensen himself. The website features The Conservative Mind as part of its top-level navigation, Clarence Thomas, as an honored lecturer, with links throughout the site to Townhall.com.
Let's face the sad truth folks. Christensen has long carried water for his buddy John Hood, but with this column, I hereby declare Rob an official and permanent member of the Art Pope Puppetshow. (Click on the official Puppetshow Map for all recent updates!)
Christensen got an 88 on the free-market extremist test. (I got an 83.) Given all the time he spends sucking up to the boys at the John Locke Foundation, he should have done way better than that.
If John Drescher wants to establish himself as a leader in his new job at the N&O, firing Rob Christensen would be a good first step.
Be sure to take the test! Click here to get started.