We'll start out with some dangerous nonsense:
TravisFain 11:13am via TweetDeck
Announced yesterday RT @JakeFrankel Asheville Tea Party throwing a 'Great Gun Giveaway' bit.ly/R3q7Ux #avlnews #avlelect #ncpol
Apparently this is their idea of how to solve problems like the Newtown massacre: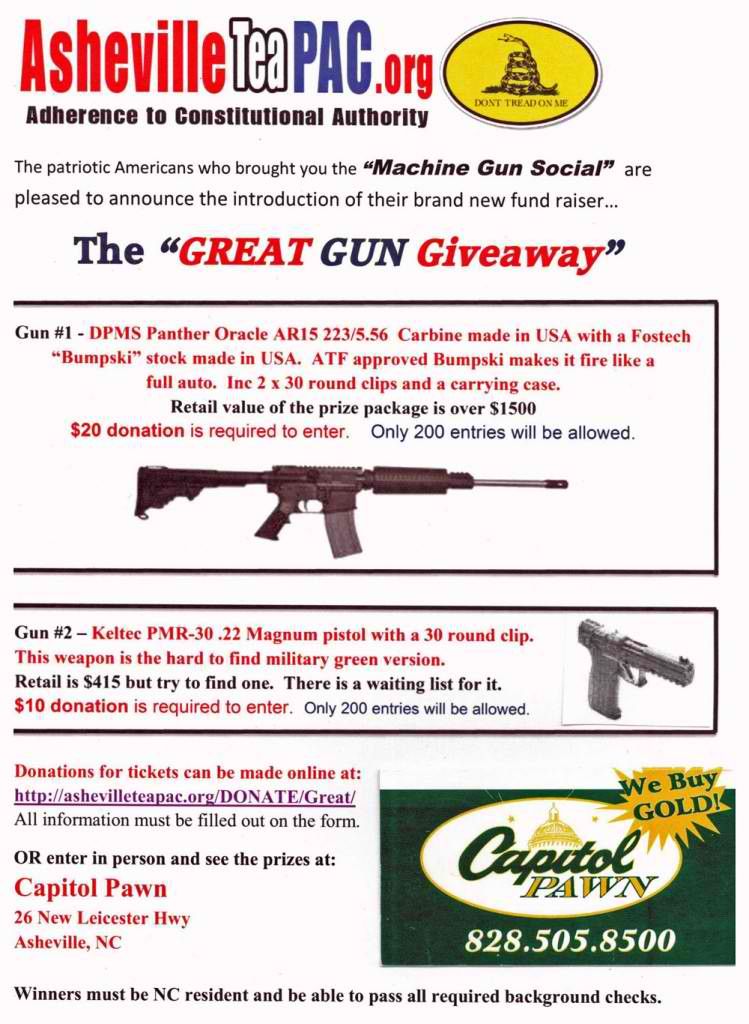 Just what you need under the Christmas tree to celebrate the birth of the baby Jesus...
wral 11:27am via twitterfeed
State funding to keep NC group homes open through January bit.ly/Wnjgbk
So...what does this mean? That the real fix won't come until after McCrory takes over? Somehow, that doesn't seem like the best approach...
NCStateAFLCIO 10:03am via Facebook
Why do lawmakers think jobless workers should pay for debt caused by tax cuts for employers? #ncga fb.me/1xbUebAKI
Because jobless workers generally don't max out on campaign contributions.
LiveWirePol 9:55am via Twitter for iPad
RT @NCPolicyWatch: New video details growing movement to repeal Citizens United shar.es/hsrHe #ncga #ncpol
And, here it is:
WWAY 11:18am via Tweet Button
Supreme Court says justice can hear case wwaytv3.com/2012/12/18/sup… #nc #ncpol #ilm #brunsco
This is probably a stupid question, but...did Justice Newby get to vote on whether he should be recused?
Okay, here's your Onion for the week:
The Onion‏@TheOnion

Female Friends Spend Raucous Night Validating The Living Shit Out Of Each Other http://onion.com/R3t7QP #OnionYIR
:)